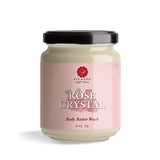 PicassaSelfCare
Rose Crystal Body Butter Wash, Organic Body Butter Wash, Gifts For Her, Body Wash For Women, Shower Gel, Rose Body Wash, Rose Body Butter
Rose oil has long been trusted as a remedy for wounds, skin rashes, and scarring, and its essential fatty acids and antioxidants promote healthy, vibrant skin. Combined with other natural ingredients, this rose body butter moisturizes, cleanses and reinvigorates skin, clearing pores and leaving you feeling rejuvenated after every use.
Made with all-natural, all-vegan ingredients, the Picassa Rose Crystal Body Butter Wash cleanses and refreshes without stripping away your skin's important natural oils. This gentle, restorative wash is perfect for skin affected by psoriasis, eczema, or other irritating rashes, deeply moisturizing skin while it comforts and uplifts with its rich, calming fragrance. The included essential oils allow you to customize your body butter virtually any scent you desire.
Ingredients: Grapeseed oil, rosehip oil, kosher glycerin, oatmeal, granulated sugar, coconut oil, avocado oil, essential oils, organic vegan butters.