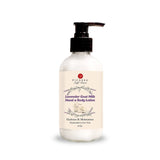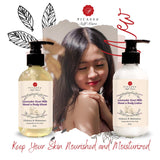 PicassaSelfCare
Goat Milk Body Lotion - Organic Skin Care - Psoriasis Body Lotion - Dry Skin Lotion - Organic Body Lotion - Soft Skin - Eczema - Goat Milk
Nourish and moisturize your skin with Picassa's natural Goat Milk Hand and Body Lotion, made with a lush formula of natural oils and shea butter blended with organic goat's milk.
Featuring a smooth, fast-absorbing texture, our natural goat milk soap is responsibly sourced and prepared in small batches to ensure your skin gets only the best. Goat's milk is a natural moisturizer, loaded with fatty acids and skin-boosting vitamins whose healing properties can help reduce fine wrinkles and dryness. Infused with sweet almond oil, this Picassa lotion penetrates deep into the skin to replenish fundamental nutrients and encourage healing. Shea butter, also naturally rich in anti-inflammatory fatty acids, provides soothing relief for dry or irritated skin, even if you deal with psoriasis or eczema. With a subtle lavender/rose scent that lingers gently on your skin, it's a perfect dose of self-care any time you need it.
Choose from two scents: Lavender or Rose and don't forget to check out our Goat Milk Body Lotion to compliment this product for a luxurious skin care ritual.