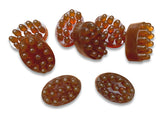 PicassaSelfCare
All Natural Organic Dog Shampoo, Dog Shampoo Bar, Dog Sensitive Skin Soap Bar, Pet Grooming, Itch Relief Dog Shampoo Bar, Natural Pet Soap
Got furry friends 🐶🐱?
Our all natural pet soap bars were created to soothe your furry friend sensitive skin and freshen up their coat.
Your dog will love our all natural, organic honey infused soap with pine tar, lemongrass, organic aloe juice, coconut and arnica oils. It's best use for reducing fur shedding and keeping it shiny. It smells great and you can choose your scent:
- Honey Pine tar and Lemongrass
- Peppermint
You can either order a soap bar (6 oz for $12) or a liquid shampoo (8 oz for $18).