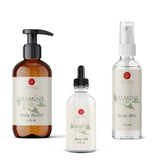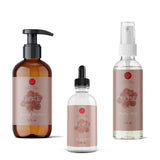 PicassaSelfCare
Picassa Women's Bundle 3
This bundle includes :

8 oz. Body Butter

Fragrance with essential oils and incorporating shea, mango, cocoa, coconut, and almond oils, our sensuous Body Butter will bring an elegant suppleness to dry, rough, or weather damaged skin.

8 oz. Body Mist

Our Hydrating Botanical Mist is enriched with Aloe Vera and Botanical Extracts. Rich in protein building blocks, help nourish and condition your skin and hair. A unique formulation that is lightweight, oil-free and designed to moisturize all over.

4oz. Women's Oil:

Picassa's Body Oils are made of 100% pure blend of Cold Pressed Olive, Organic Sweet Almond, Grapeseed, Vitamin E & Lavender Essential Oil. Anti-aging moisturizer is packed with vitamins that promote natural health and beauty solutions which are superior to any single oil. Night & day moisturizer for face, skin, hair & nails. Each of these 4 oils is a source of vitamins and antioxidants that creates the ultimate solution for all your skincare needs.